On Vine is a 3.5-acre development that stretches a full city block in Hollywood, California. Included are four commercial buildings and one, 20-story, residential high-rise. Raymond was contracted by Hathaway Dinwiddie Construction Company to work on 280,000+ square feet of the commercial core and shell portions of the project. Of these buildings, Buildings A and B are six and five stories respectively, interconnected at three levels by bridges. Buildings C and D are low-rise auxiliary buildings, with Building C occupying a high-end theater. The campus is set to complete in summer-2020 and will host Netflix as its anchor tenant.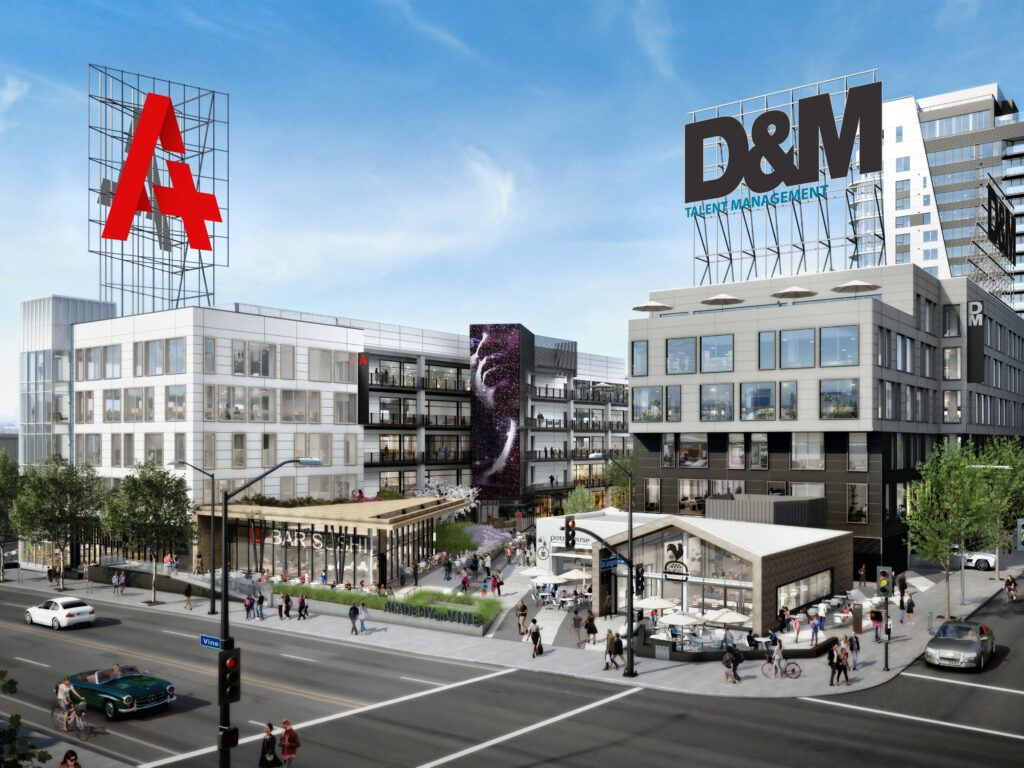 Raymond's scope of work consisted of interior metal stud framing, gypsum board, shaftwall systems, acoustical ceilings, insulation, head-of-wall firestopping, and perimeter firestopping; as well as, exterior design assist, metal stud framing, sheathing, exterior insulation finishing systems (EIFS), direct applied exterior finishing systems (DEFS), air barrier systems, cement plaster, sealants, spray-applied fire-resistive materials, intumescent fire-resistive materials, fiber cement panels, and scaffolding.
The exterior of both Buildings A and B were light gauge metal framed, sheathed with DensGlass, coated with GE Elemax air barrier (by others), and cladded with Kingspan metal panels (by others). The bridges that connect these two buildings have metal panel underbellies and siding, which required an elaborate cuplock scaffold system, with trusses in between platforms, to access all sides and bottoms for framing, sheathing, and finishes.
Due to limited tolerances of the Kingspan metal panels, framing and sheathing had to be exact. Cladding had to be uniform from slab to slab all the way up the buildings. To achieve perfectly plumb framing, an additional stud, slightly longer than typical framing, was clamped to top and bottom tracks, making alignments clear and true. Despite the complexities, there were very few Raymond conditions that had to be reworked.
Raymond framed for hundreds of windows on the exterior walls of the buildings. Each floor had different layouts, with different sizes and amounts. Raymond's Project Superintendent used an efficient and intuitive color-coding system for every window opening, along with a prefabricated strap, to get rough openings just right.
An abundance of coordination between Raymond, the metal panel installers (CMF, Inc.), and the glazing contractor (Architectural Glass & Aluminum) was required for the exterior skin scope of the project. EIFS and DEFS sand fine finishes came out just right, in three different colors, with EIFS also being applied on penthouse roofs and DEFS at ceilings and soffits of building corners and parking ramps.
Throughout the duration of the project, weekly meetings were held to ensure all parties and pieces were moving in the right direction. As Netflix began to provide their design input, changes would be made fairly rapidly. Solid documentation, as well as efficient communication from Hathaway Dinwiddie, proved to be pivotal to the evolving project. A perfect example of this were the three added bridges. For such an impactful element to be brought into play over halfway through the project, much coordination was needed, including scaffold placement with planters and landscaping, and bridge finish alignments. Close contact between Raymond's foremen and Hathaway Dinwiddie's superintendents was crucial for execution.
With the field's ingenuity, a well-done estimate, and continuous planning between Hathaway Dinwiddie and all subcontractors on site, the project will be completed under budget and just ahead of schedule.