At Raymond, we have outstanding employees, so we decided to feature some of them on our blog. Our next Employee Spotlight features one of our longest tenured employees — Jeffrey Shriver, Vice President, Area Manager of Raymond's Southern California region.
With this Employee Spotlight, we are both happy and sad to announce that Jeff is preparing for his retirement at the end of this year 2022, after 38 years with Raymond. Jeff has been an integral part of our company for the duration of his career, from winning and running projects as a Project Manager/Estimator to leading operations as Director of Project Management in 2003, and finally to his current position steering the Southern California team through many years of growth and success.
Jeff's contributions will always be valued, and his hard work and dedication are worthy of admiration. We took this last opportunity to sit down with Jeff to learn more about him and his time at Raymond.
Did you have any interesting jobs before Raymond? I worked for the Orange County Register newspaper as an area manager for five years.  I ran 60 routes with kids and four auto routes with adults in Huntington Beach and Laguna Hills. I was the youngest they had ever had at that position.
What brought you into the construction industry? A father of one of the kids that worked for me at the paper noticed my drive and organization and talked me into coming in for an interview with Carl Raymond and Gary Paoli. The father was Andy Dangl and he worked for Raymond for over 30 years. His son, Marty, came to work for Raymond as well in Las Vegas.
What do you think have been the most significant changes in the construction industry today? Technology and pressure. Since I started at Raymond, they have invented the beeper, the pager, the fax machine, the cell phone, the personal computer, automated estimating systems and the internet. I remember when they brought out the first computers and told us we could get a day's work done in half a day! Although output has probably increased at least four times to what it used to be, I believe the industry seems to expect five.
Another change has been in communication. With the increases in technology, people do not talk or meet in person as much as they used to. For example, when it comes to buying out projects, there is much less individual interaction with the people that make decisions. It seems like we have gone from meeting in person, to talking over the phone, to now email and texting.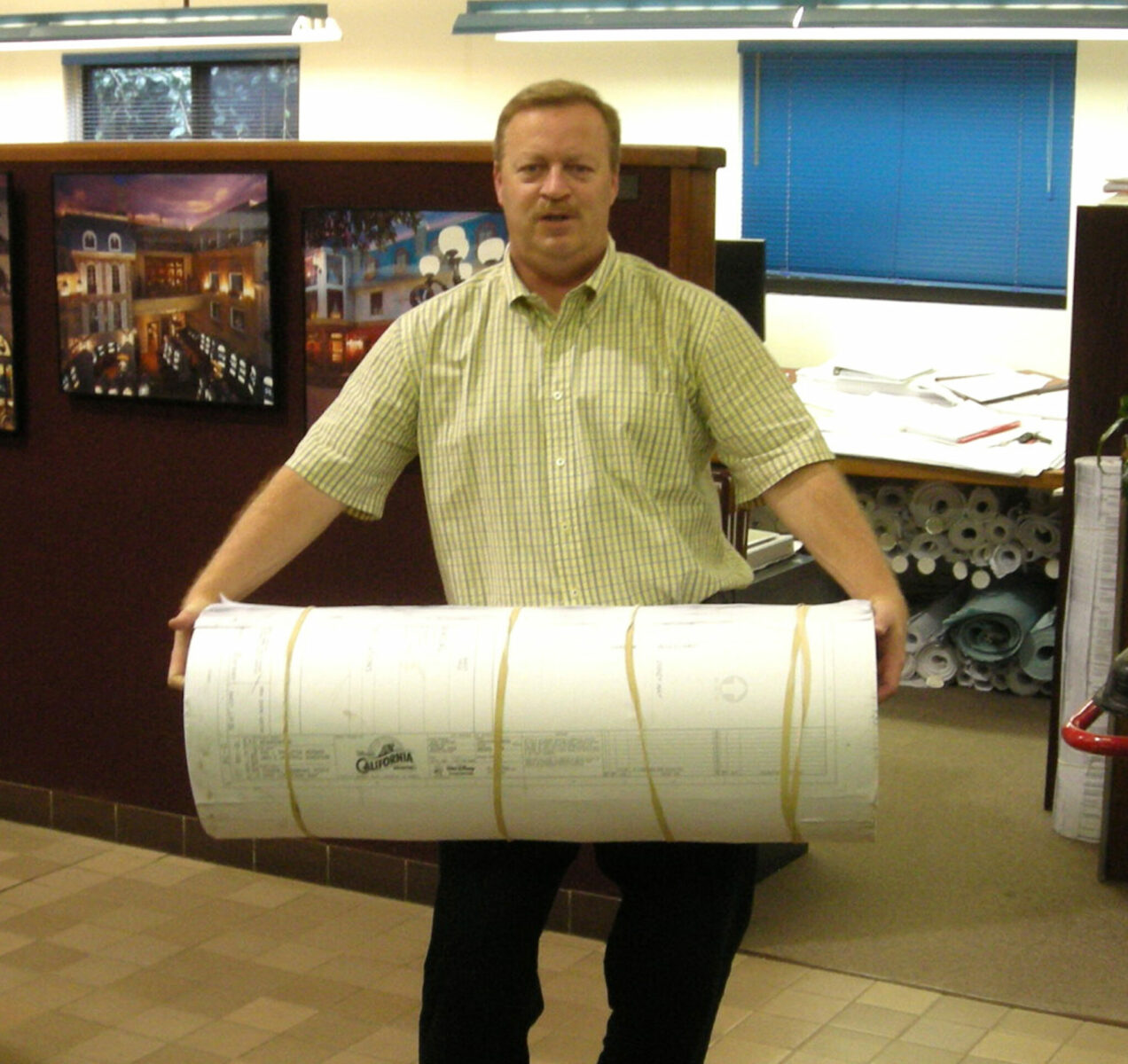 What have been your favorite Raymond projects over the years? Disney work is fun with all the theming involved. Disney has been a good company to work for over the years and very demanding. I have been personally associated with, and project managed, nine Disney projects.
Raymond has done many high-rises from 30 to over 70 stories tall (Wilshire Grand pictured below). These are always nice to see and often perform well due to their repetitive nature.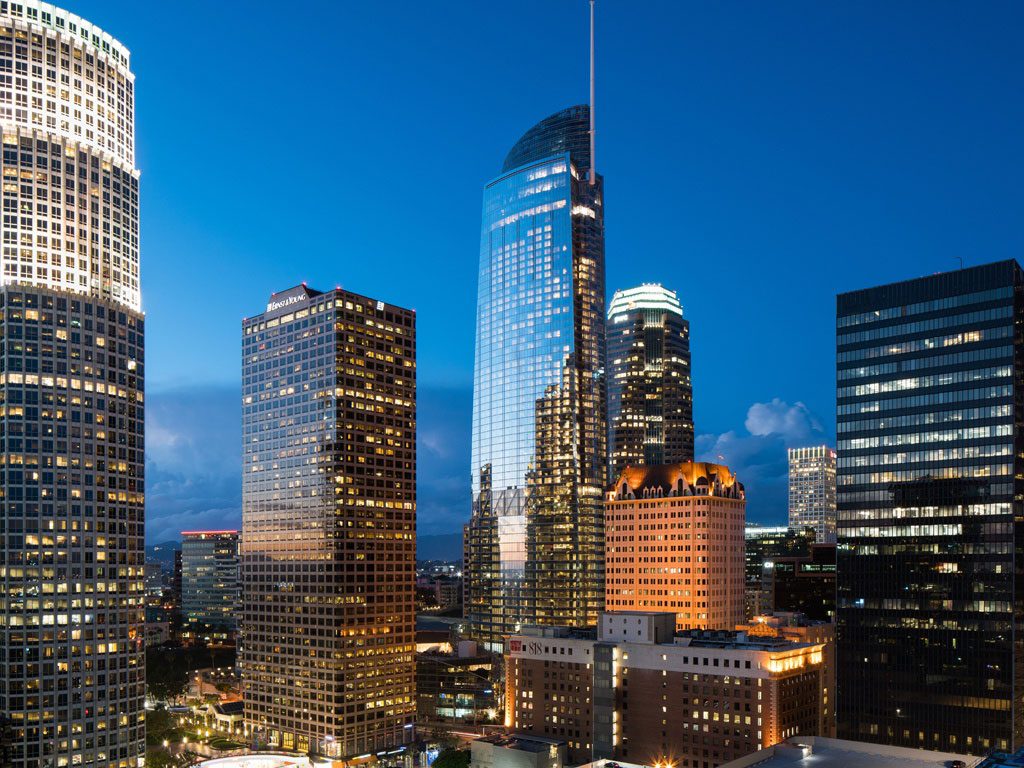 Buildings with non-typical, thought-provoking designs where we have had to overcome challenges, have always been the favorites for me: from our Variel panel job (below left) to the Ronald Reagan Federal Building (below right) with off angles and high-end finishes.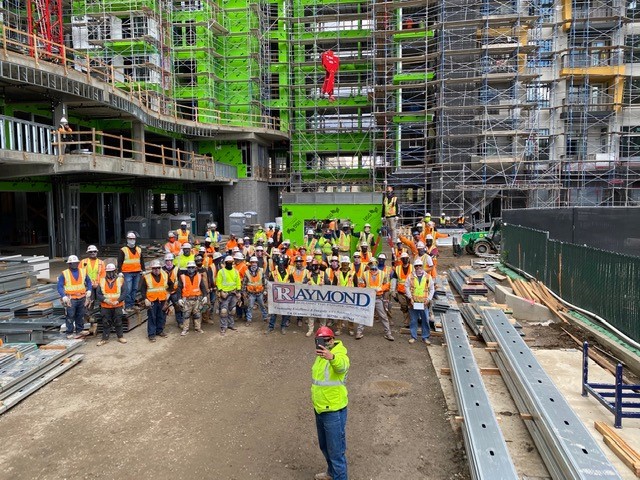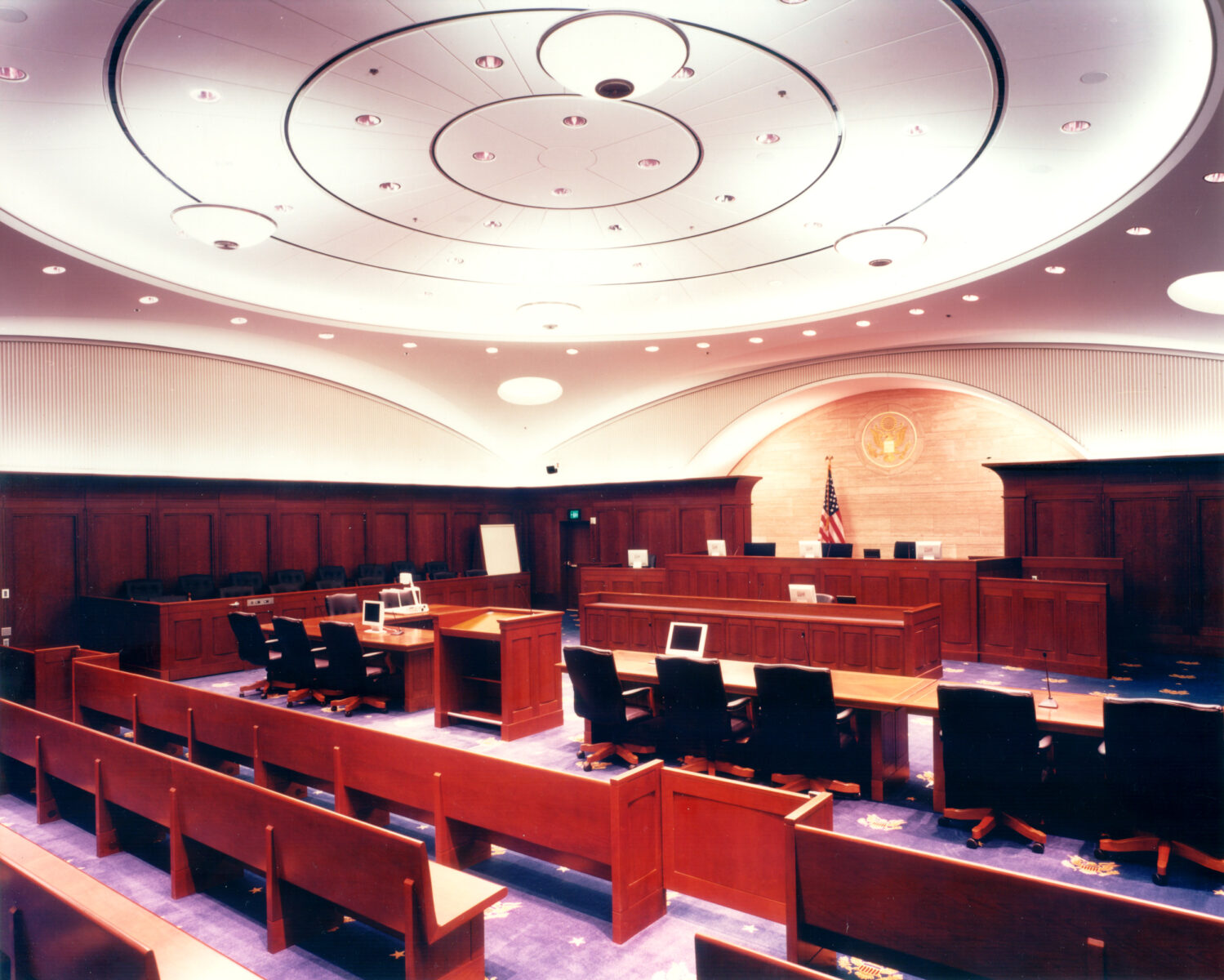 What has been the best thing about your job? The people at Raymond who I have been fortunate to work with. Our operations group really is a united team and we really live the motto of "family" that Carl Raymond taught me when I first started at Raymond.
The most challenging? The recession of 2009 and the COVID-19 pandemic were both extremely difficult in many ways. Mostly losing good people and trying to navigate something that nobody had ever dealt with.
What do you want people to remember about your career and time at Raymond? I am most proud of the great operations team that we have built here in Orange which has led to many years of profitability. I believe I had a knack for finding good people that could work together. That is my legacy.
What were the greatest successes or accomplishments in your entire working history? My greatest accomplishment was changing the person I was to the person I became. I received feedback after many years of individual success and found that many people did not appreciate my management style. Inspired by one of my mentors, Al Hanson, I realized the importance of team and being part of a bigger, more collaborative, effort. This helped me with my personal life and raising my beautiful daughters as well.
Describe the characteristics of leadership at Raymond? Raymond believes in family. Your individual family comes first, but Raymond family is a close second. Just like family, there are sometimes disagreements, but what is important is always having a mutual respect with your fellow employees. As managers, I believe that sometimes we get lost in charts, spreadsheets and numbers and forget to recognize and teach life moments. I believe we can all improve here, but I know that leadership at Raymond cares about each individual employee and we need to keep a focus on showing that, as Carl and Travis have always tried to do.
Have you overcome any life challenges that you would like to tell us about? Beating cancer. I had colon cancer when I was 39 years old. I am thankful it was caught early and was able to be removed through surgery. My daughters (pictured below) were 10 and 13 when I was diagnosed so I'm especially grateful, and an advocate, for early colonoscopy screenings.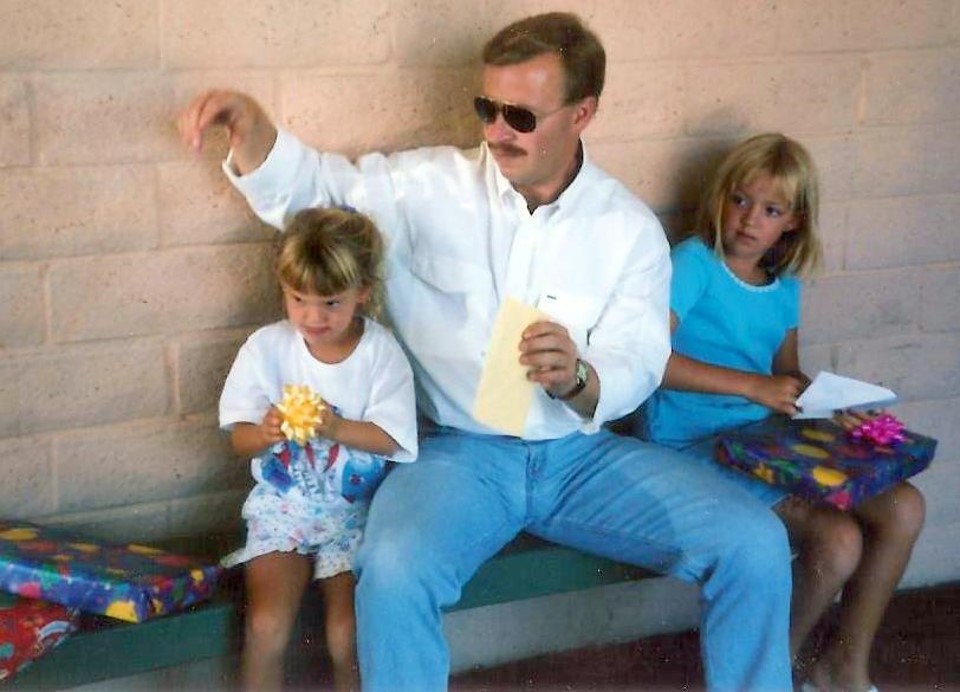 Another challenge was losing my friend, Dennis McCarthy. Dennis was my greatest friend at work and gave me feedback that I needed to hear even when I didn't want to hear it. He gave me encouragement when I struggled, and he was probably one of the best people, and most dedicated to Raymond, that I have ever known. I miss you and will always love you, Dennis!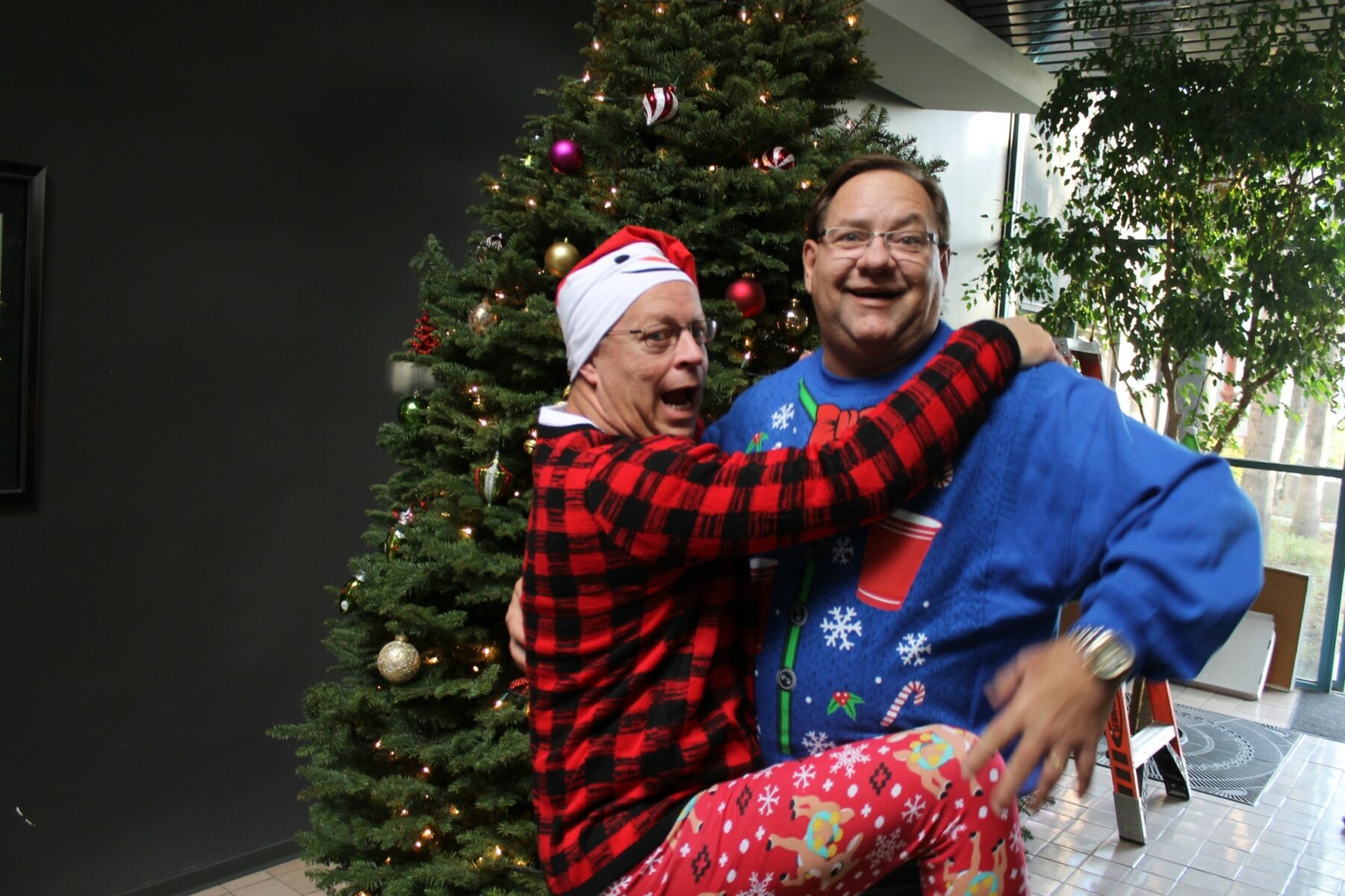 What are some of your most memorable moments at Raymond? The big anniversaries, the people, the losses of friends and coworkers during my tenure here. The fun parties, sports teams we played on together, and football pools for 30 years. Long car rides with Carl Raymond and hearing his wisdom on life and relationships and success. Kelly Black's laugh. Group gatherings with everyone when titles are set aside, and we are all just friends.
What will you miss most about Raymond/working when you retire? The people. These are many of my best friends and it won't be the same after I leave. I won't be in the trenches with them.
What's the most valuable lesson you have learned from your co-workers? Everyone wants a leader and not a manager. You can still have fun and be an effective leader. Leading means that you head in a direction and that people want to follow you there. It also means you are willing to listen, analyze, and determine if you should alter your course. Respect others for their efforts and ideas.
Describe your time with Raymond in one word? Friendship.
Describe Raymond in three words? Family, Safety and Quality.
What's one thing you couldn't live without? My wife and daughters. There would not have been a reason for the long hours, and constant push to get better without their love and support.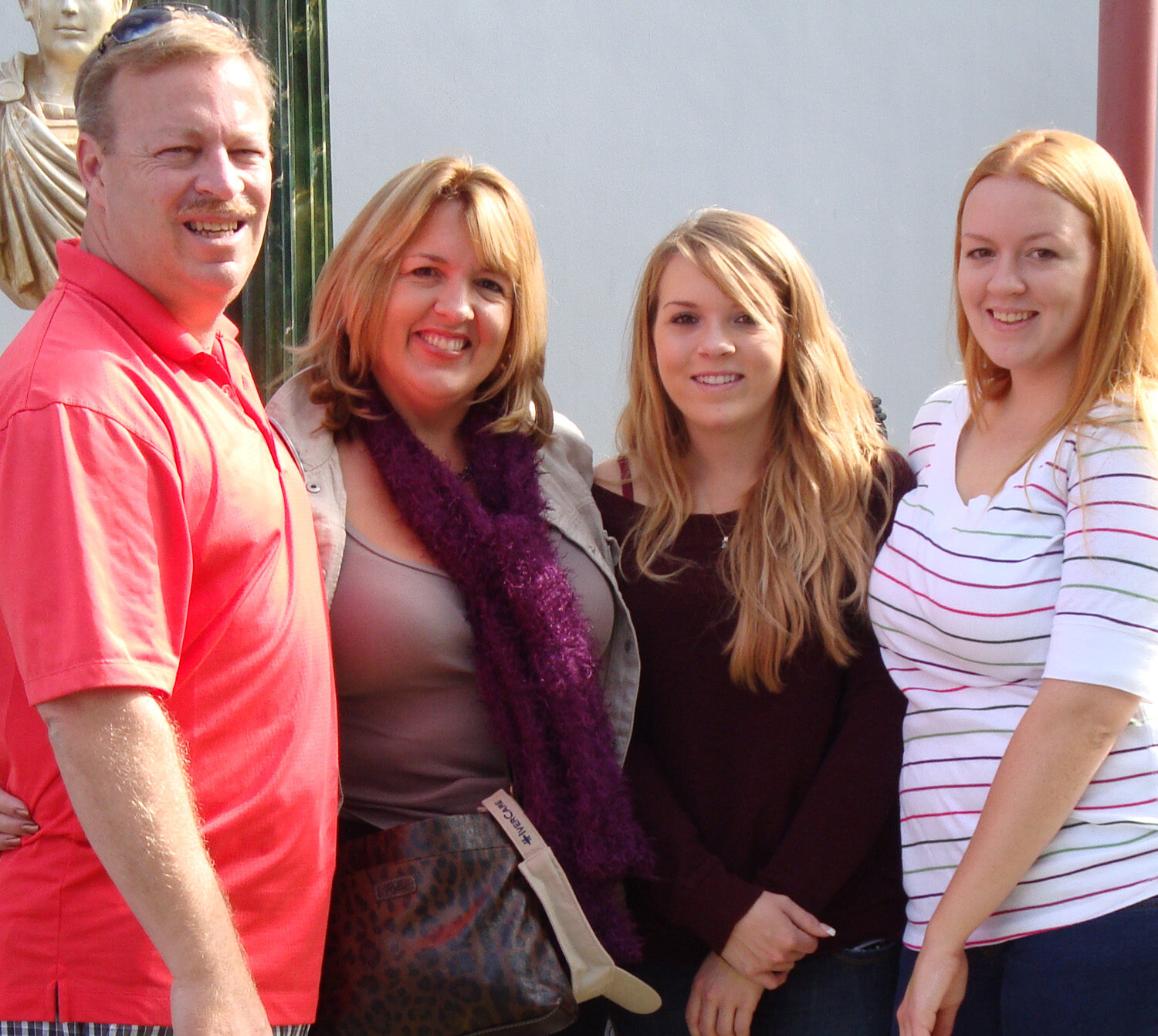 What do you like doing when you are not at work? Am I ever not at work 😉? have been a bowler for over thirty years, played softball (but I'm too old now) and enjoy playing golf (although not as well as I used to). I love being at home with my family and visiting my daughters whenever I can.
How have you balanced your career and family over the years? You need to make time for your family and those you care about. Overall, I probably worked a little too much over the years but working for Raymond has allowed me to take care of my family. I believe we all do this and make a bit of a sacrifice.
What are your plans post retirement? To enjoy life, continue with investing (possibly as a part time job), help my daughters as they relocate, and there is hope for grandkids in the not too far future.
Do you have any advice for coworkers or those just starting their careers? You can't work forever. Do the best you can but start putting aside for the future. The harder you work, the better you will do. Use your vacation time and travel while you are young. Raymond really is the best place to work overall. The grass is not always greener. Try not to focus as much on what you're not getting in life, but rather at what you are being given and what you do have. You will be much happier.
Is there anything else you would like to tell us? A major part of my time at Raymond was spent working with all of the superintendents, foremen, and employees in the field. These are the guys that give us the business to succeed in. They are the reason we have a job. We have to keep them safe. I've had many close relationships with our field crews and I would not have succeeded without them. Thank you all for each of your individual life lessons that you have shared. Special shout out from me to Pete Byrne, Dwight Karr, Joe Ward, Ron Kinzer, Paul Westlund, John Beideman and Kevin O'Brien who I spent most of my project management years with.