Mario Mondragon is a pre-apprentice at Raymond, working in our Southern California panel yard. Currently, Mario is on the team producing prefabricated, load-bearing panels for Variel, a new eight-story senior living community located in Woodland Hills, Ca. Mario began working for Raymond upon graduation from Estancia High School this past June (2020). He was a participant in the Coastline Regional Occupation Program (ROP) for Construction and Technology.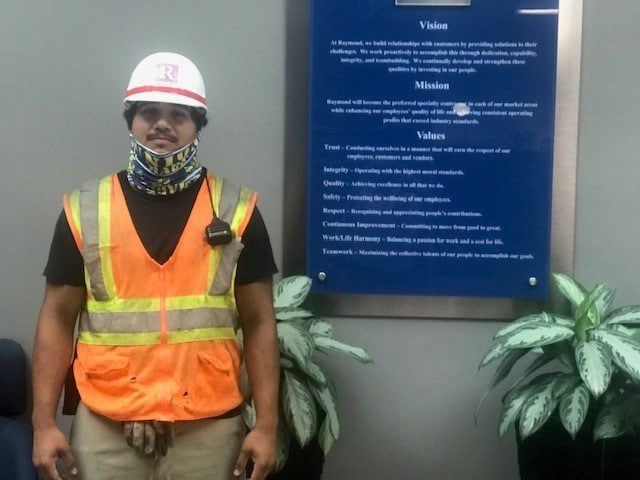 We sat down with Mario to learn more about his first months with Raymond, and in the construction industry.
Did you always want to be in construction? I didn't know I wanted to pursue a career in construction until I joined Coastline ROP and took a Construction Technology class. Ultimately, taking the class shifted my goals for the future. I am so happy it did because I have found working at Raymond to be the best job I have ever had!
Do you have any advice for high school students thinking about their future? Look at your options. I encourage everyone to consider trade schools as an alternative to a four-year college. Trade schools offer opportunities that many people aren't aware of. And, if you do choose to pursue a trade school, as with everything you do, you have to give it your all. It comes down to how much time, effort, and work you are willing to invest. Are you willing to get up early?
Where do you see your career going? I would like to become a journeyman, then a foreman, and ultimately a superintendent.
What do you appreciate most about the industry so far? The people. I really enjoy the different personalities and workstyles of everyone I work with.
What do you like to do when you are not at work? I love to fish! However, because I have been having such a great time at Raymond learning more about construction, I find myself thinking about work even when I am not on site.