Landmark Tower II is a new 34-story, 415,000-square-foot apartment building, comprised of 376 apartment units, fitness and recreation areas, a swimming pool and pool deck, and 4-levels of underground parking. Landmark Tower II is now the tallest building in West Los Angeles.
Raymond was contracted by MATT Construction to perform interior and exterior work, including: Cold Formed Metal Framing, Sheathing, Thermal Insulation, Acoustical Batt Insulation, Self-Adhered Sheet Membrane, Fiber Reinforced Cementitious Wall Panels, Applied Fireproofing, Joint Firestopping, Acoustical Sealant, Shaftwall, Non-Structural Metal Framing, Portland Cement Plaster, DEFS, Gypsum Board, Acoustical Panel Ceiling, Seamless Acoustical Ceiling System, Architectural Vibration Isolators, Longboard Aluminum Slats, and BIM.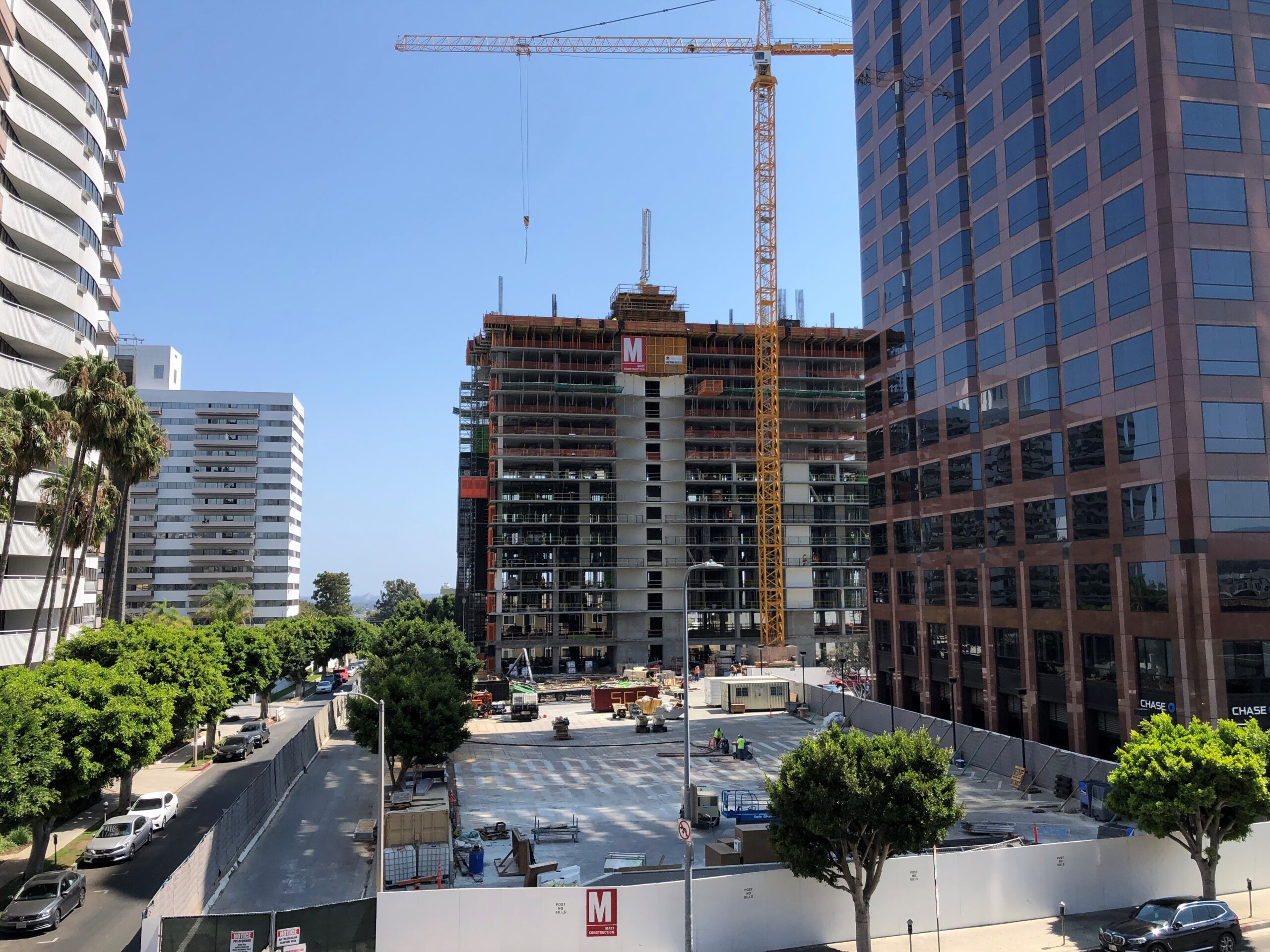 PROJECT HIGHLIGHTS
Scaffolding: Raymond (and CSI Scaffolding subcontractor) designed and erected scaffold over 350' high (from ground to roof), with a platform at each working level of over 200 square feet. The top level, Level 34, used cantilevered scaffolding for canopy framing and Swiss Pearl installation. This scaffold stood at over 350' off the ground level and extended over 4' away from the building edge. It was made sure that all hand tools were tied off to prevent any potential drops.
Swiss Pearl/Canopies: Levels 3-30 of the Landmark Tower contain all of the typical apartment units, while levels 31-34 house the larger penthouse units. The corner penthouse units boast expansive views to the south and west, where on a clear day you can see Century City, Downtown LA, SOFI Stadium, Santa Monica and Long Beach. Vertical Swiss Pearl fins are featured up the west and east sides of the building, from ground to roof, with Swiss Pearl canopies on levels 1, 2, and 34. At levels 2 and 34, the Swiss Pearl fins transition into the canopies with curved panels. Maintaining finish alignments from straight to curved at these transitions was critical.
Raymond packaged the Swiss Pearl so each floor's panels could be stocked and installed in order, and then moved on wheels to the other side of the floor when the panel balance was installed.
Swiss Pearl installation was a challenge when figuring out how to maneuver some of the larger panels without damaging them through limited scaffold space.
This project was the first North American Swiss Pearl project to have curved Swiss Pearl panels.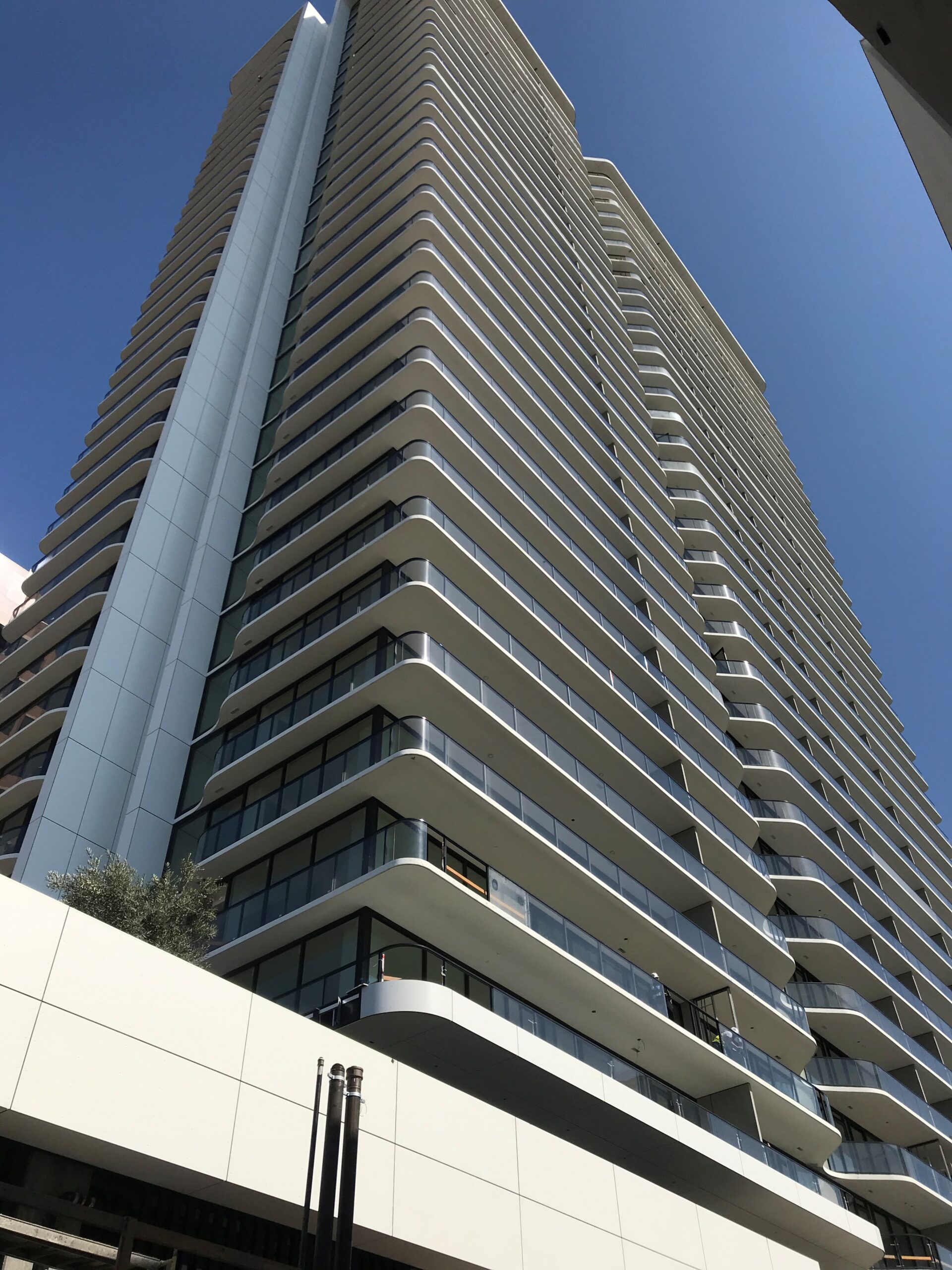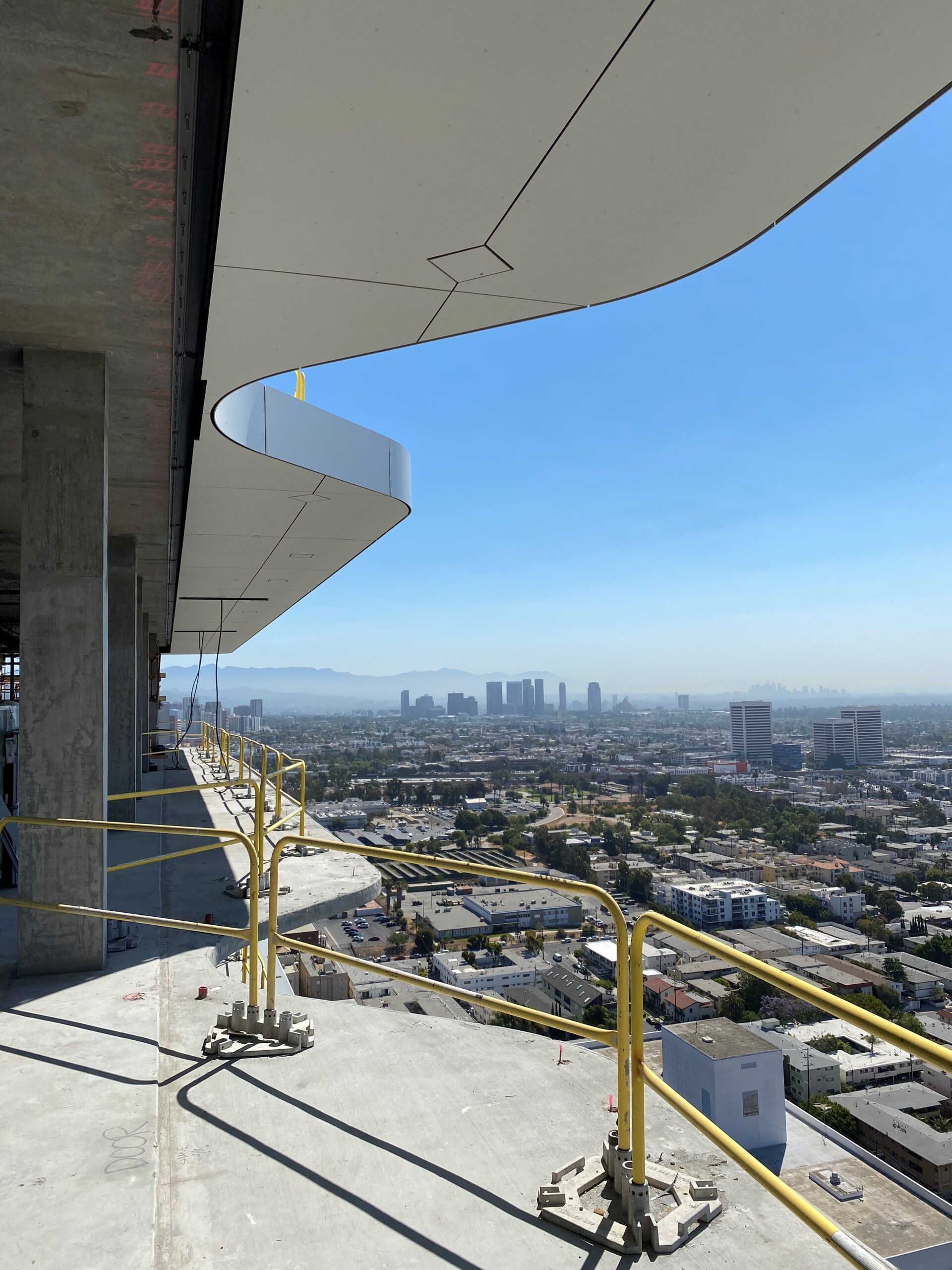 Material: Procuring metal became an issue towards the end of 2020 and through 2021. Fortunately, Raymond had been ordering material about two to three months in advance. Raymond completed the Landmark Tower II project ahead of schedule amid the metal crisis.
Taping: For the taping process, instead of using boxes of mud, the Raymond taping foreman chose to use barrels, which sped up the process and made less of a mess.
PlanGrid: Raymond added a Calendar on PlanGrid to coordinate job site deliveries and make it easier to keep track of what material made it out to the project. Raymond added a Dashboard on PlanGrid and attached shop drawings and submittal information for foremen access.
BIM & Shop Drawings: Comprehensive wall type and layout shop drawings were created out of the BIM process and utilized programs such as Bluebeam. Examples include shot pin spacing drawings, backing drawings, and wall type locators with information on stud size and gauge and number of layers of drywall. Material quantities were also extracted out of the BIM modeling process for accurate procurement.