Mingei International Museum recently completed a major transformation of its Balboa Park facility in San Diego, revealing over 50,000 square feet of new museum space. When construction began approximately three years ago, the Museum committed to reopening for maximum engagement and collaboration, with expanded access to collections, exhibitions and educational programming.
Raymond performed metal framing and drywall for Layton Construction on the non-profit, LEED Gold, cultural center. Raymond also installed a variety of finishes, including cement board wall panels; GFRG, metal, and fabric ceiling panels; and drywall ceiling systems.
One of the biggest challenges of the project was incorporating all of the unique products and creative designs into the existing structure. Each component required a high level of precise layout, which, in turn, led to a highly in-depth shop drawing process.
There were 230 cement board wall panels individually designed, with all cutouts for toilet accessories and elevator fronts, and 100 GFRG ceiling panels all 13'7" long by either 4'6", 4'10" or 6'9" wide.
Designing and engineering the Unistrut system and the GFRG panel system together was a key component of the success of the overall gallery ceiling. Although only four pick points were required by engineering, eight were installed to be sufficiently flexible and avoid the complex mechanical systems above the GFRG. In addition, each panel has a 3" clearance between itself and the next panel on all four sides. The layout to bring the Unistrut system, the pick points, and the clearances together as one is a clear sign of quality workmanship in and of itself.
Metal ceiling panels were laid out with perforations in each panel throughout. When precisely installed over its 100-foot length, the perforations, much like a player piano, emulate a song.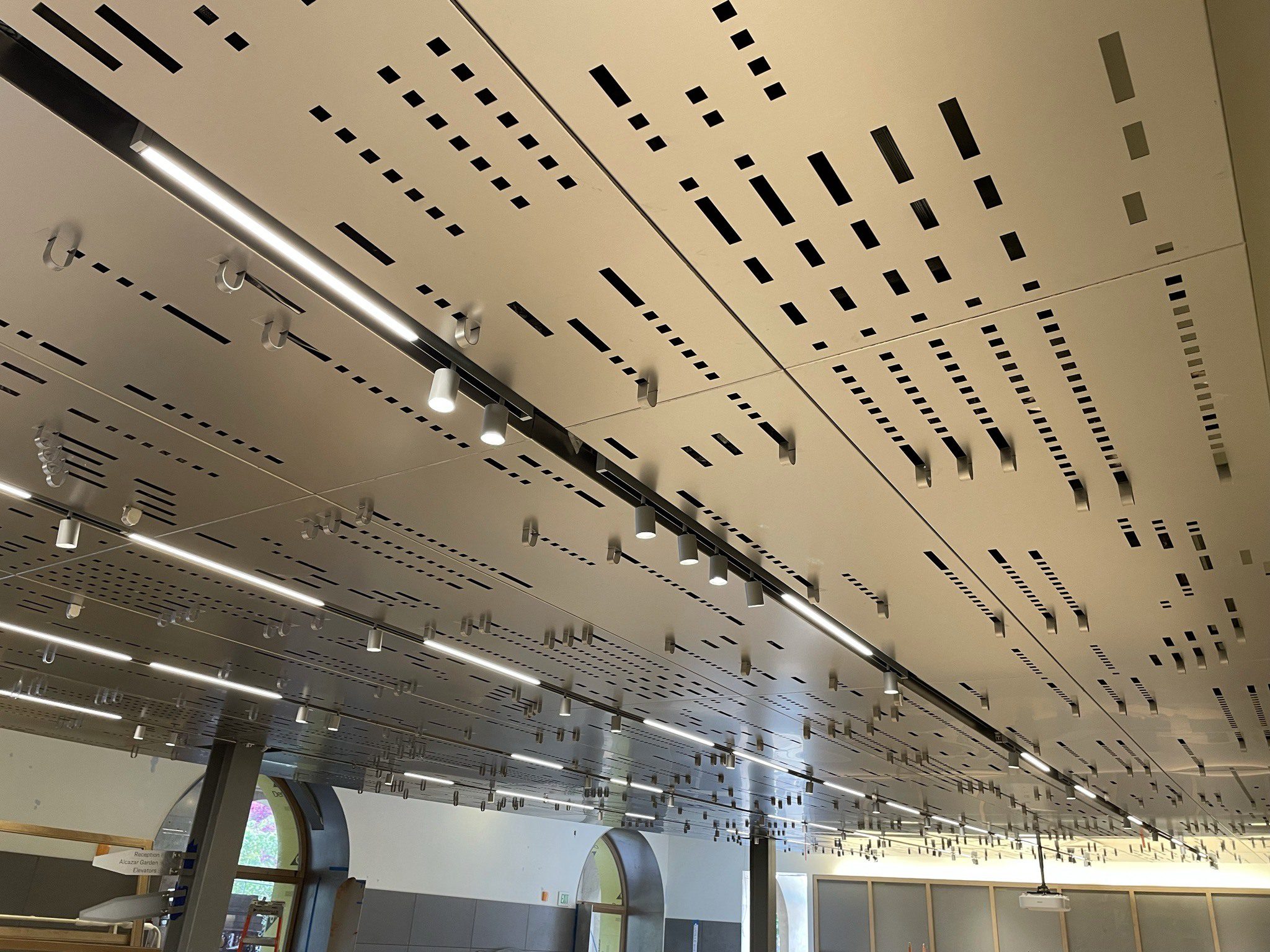 The metal ceiling panels, fabric ceiling panels, and Ensemble ceiling panel system all work in perfect harmony with the GFRG ceilings to create a creative flow, which demanded the highest quality of workmanship.